Light Rail is considered the most effective long-term solution to deliver reliable, frequent, fast and sustainable transport for Cambridge. Residents, business, the University and visitors would all benefit, and important values such as the City heritage and local environment would be protected. The pressures driven by economic and employment growth are expected to create an influx of more than 120,000 people into Cambridge City and the surrounding South Cambridgeshire District within 20 years from 2011 – that is, the size of Cambridge City again by 2031, now only 15 years away. Addressing this level of growth by building busways into the centre of Cambridge is likely to be inadequate to cope with demand, and we believe that this approach also poses serious risks to many of the values of Cambridge that make it so special.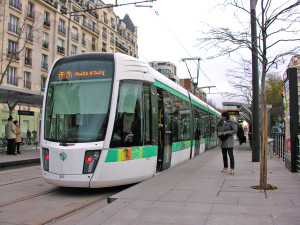 Cambridge Connect has suggested a Cambridge Light Rail network for consideration which could be developed in phases. We call the first phase the 'Isaac Newton Line' in reference to the innovative thinking that is a hallmark of Cambridge. In summary, the Cambridge Light Rail network would comprise:
The Isaac Newton Line is considered the first priority, and would extend ~22 km from the Girton Interchange in the northwest to Granta Park in the southeast, proceeding via the new University West Campus, underground through the City Centre to the Cambridge Central rail station and overground to Addenbrookes & the Biomedical Campus, Trumpington, Hauxton (M11) and Sawston;
Extension A is suggested as the second priority because it would link the centre of Cambridge to commercial and residential centres in the northeast of the City, extending to the Science Park employment powerhouse and Park & Ride facilities near the A14 at Milton near the new 'Wing' development on the A1303;
Extension B would link Cambridge Central rail station to Capital Park and Fulbourn via Cherry Hinton, and would follow the alignment of the existing heavy rail line extending east to Norwich;
Extension C would extend from the Girton Interchange eastwards parallel to the A14 to Histon Road, Cambridge Regional College, the Science Park and Milton Road areas. This phase of the network would complete a circuit, enabling more travel options and also serving populations centres to the north of Cambridge;
Regional Extensions to Cambourne and Haverhill can also be anticipated, which would provide strategic access into the City Centre from areas of lower-cost housing, supporting communities that need improved access to employment focal points within Cambridge.
These phases could be adopted singly or in combination, and there may be other options or variations also worthy of consideration, and we welcome suggestions.
Cambridge Light Rail warrants discussion and serious consideration. At the very least, a full technical and economic cost-benefit analysis of Light Rail for Cambridge should be undertaken. In view the commitments being made of substantial resources to infrastructure construction under the Greater Cambridge City Deal it is important that this work is undertaken as soon as possible and with urgency.